Officials at Chicago Public Schools (CPS) have asked students and parents to take an at-home COVID test prior to returning from winter break. Chicago Public Libraries have a limited supply of rapid COVID-19 tests for those who may need them, according to CPS officials.
District officials have asked students to wear masks to prevent upper respiratory infections like COVID-19, flu, or RSV.
Cook County Is at a Medium Level
Coronavirus transmission has been raised to a medium risk level in Cook County and many of its surrounding counties, according to the Centers for Disease Control and Prevention (CDC). Two days ago 73 out of 102 counties reported seeing a rise in COVID cases. Out of those counties, 28 are marked to have high community levels with 25 at medium.
Recently, Mayor Lori Lightfoot mentioned that the city could issue a mask advisory if the county reaches a high transmission level. Some of the local hospitals are preparing for a possible search in cases.
The request for testing and preparation for a possible rise in cases comes after students return from their two-week winter break. Many students and families most likely gathered over vacation which can cause a spread of respiratory infections.
IDPH's COVID Monitoring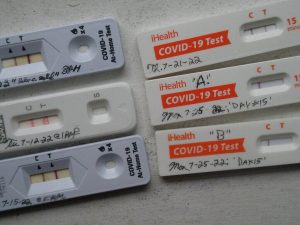 Before 2022 ended Illinois Department of Health stated it was going to continue "closely monitor levels of COVID-19, the flu, and other respiratory illness in communities throughout" the state.
During their observation, they have seen "a new more transmissible strain spreading in the northeastern U.S.," according to IDPH Director Dr. Sameer Vohra.
"I continue to recommend our residents take steps to prevent the spread of infection, protect those most vulnerable to serious illness, and preserve our hospital capacity," stated Dr. Vohra.
Not to Late
It is not too late to receive the yearly flu shot or COVID-19 bivalent booster.
Currently, Cook County sees 783 cases on a daily average with a 9.4% test positivity rate.
Dr. Vohra has advised that anyone sick should stay home if they are able to. They should also contact their provider about treatments for the flu and COVID-19.
Practicing safety precautions can help prevent the spread of respiratory viruses.
By Sheena Robertson
Sources:
The New York Times: Tracking Coronavirus in Cook County, Ill.: Latest Map and Case Count
NBC 5 Chicago: 73 Illinois Counties at 'High' COVID-19 Community Level as Cases Climb From Last Week
ABC 7: Chicago Public Schools asks students to take COVID tests as they return from winter break
Top and Featured Image Courtesy of Jernej Furman's Flickr Page – Creative Commons License
Inset Image Courtesy of Kevin Farley's Flickr Page – Creative Commons License